Maximize the living space in your home by finishing your basement, creating a new living space for play or work.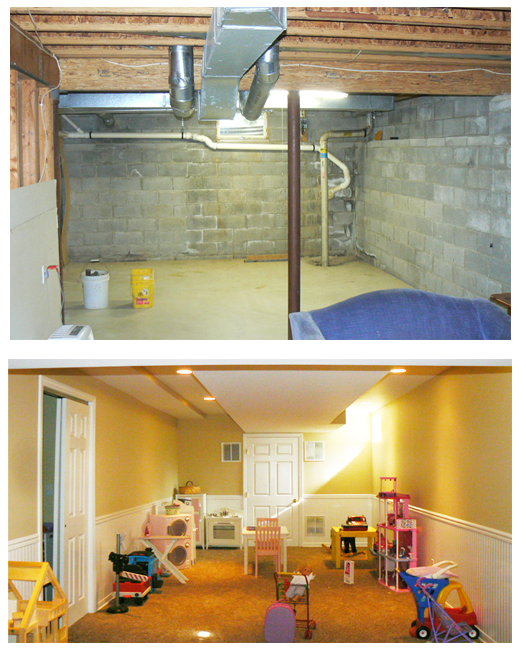 Do you ever find yourself lingering downstairs with the laundry on a roasting hot and humid New Jersey summer day, staring at concrete walls and overhead jousts or pipes? What if you could instead coolly catch a movie, relaxingly read a book or comfortably work-out or work-online in style? It's not only possible but economically reasonable to consider revamping your unfinished basement. An option not only for your family's comfort and added living space but also as a sound business decision recouped by the added resale value that a finished basement provides.

Remove the unused, slow-growth, gathering of storage boxes and transform your downstairs space into an all-purpose living area. The structure is already there, why increase the footprint of your home (and your tax bill) with an expensive addition? Converting an unfinished basement into a viable living space can be done with a minimum of effort and cost, especially when working with the creative, clever, Curb Appeal Design crew.

Simple refinishing projects can consist of adding drywall, flooring and lighting. More dramatic improvements could include a bathroom (half or full), kitchenette, walkout door, laundry center, closet space, fireplace, hot tub, sauna or other design features.

Popular basement projects often include a bathroom, whether half or full. The benefit of a full bath comes to play as there isminimal main bathroom impact when guests can have their private downstairs retreat accommodations. With the variety of durable and beautiful ceramic tile choices, it may well be the most coveted room in your home. The addition of bathroom facilities, whether upstairs or down, is always a good idea as it recoups almost all of the construction costs. Your contractor can handle the connectivity to the main sewage line and address any moisture concerns.

Sloped properties offer ideal walkout basement opportunities and increase natural lighting to the downstairs. Windows and sliding glass or French doors give the impression of space and freshness. If considering the space for a guest bedroom an additional egress window with unobstructed opening of 5 square feet.

Economical and easy to install, a suspended ceiling also has sound dulling benefits (acoustical tiles) and easy access to pipes and ductwork. Optimal for basements with high ceilings, if height is a consideration, sheet rock, mirrors or even painted exposed beams offer spaciousness and artsy design elements.

When it comes to flooring, options are unlimited. Vinyl sheet flooring is durable and can be installed over concrete. Ceramic tile or carpet can provide immediate warmth to the area. High hat ceiling lights can enhance the ambiance to the project. Cooling is not usually a problem but heating issues can be addressed with additional vents or a ductless stand alone unit.

Whether it's a fabulous family room, private bedroom retreat, exercise, work room, playroom or home theater, the downstairs of your home is surprisingly flexible and able to accommodate any activity of the modern family. Be adventurous, indulge your dream, your man cave, your inner oasis, with a finished cellar by Curb Appeal Designs.
Call Curb Appeal Design LLC today at (973) 451-0203 to schedule an initial consultation and quote for your basement finshing project.